always expect

Authentic Italian Salami ...with a local touch

The San Giuseppe Salami Company was on the principle that there's really only one way to do things: the right way.

In a commitment to our community and heritage, we combine only the freshest North Carolina-based ingredients with age-old family recipes and traditional Italian techniques.

carefully crafted

Deli Meats

We carry a wide selection of carefully crafted deli meats ranging from traditional Italian favorites like Dry-Aged Capicola and Mortadella to more classic choices like Black Pepper Turkey and Corned Beef.
fresh, and cooked

Homemade Sausages

We offer an extensive lineup of both fresh and cooked sausages sold in three main categories: fresh sausage, chicken sausage, and cooked sausage. Our selection includes a variety of traditional Italian sausages as well as more exotic flavors like Spanish Chorizo, Irish Bangers, and Andouille.

Just as with everything we produce, we only use the finest, freshest ingredients.
Contact Us
San Giuseppe Salami Co.

~ closed to the public ~
San Giuseppe Salami Co.
2172 NC-87 N
Elon, NC 27244

​(336) 586-7003 (office)
(336) 586-7096 (fax)
orders@sgsalami.com
Powered by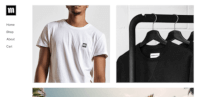 Create your own unique website with customizable templates.